AT&T Helps Evonik Create Innovative Chemical Solutions
22 FEBRUARY 2016
---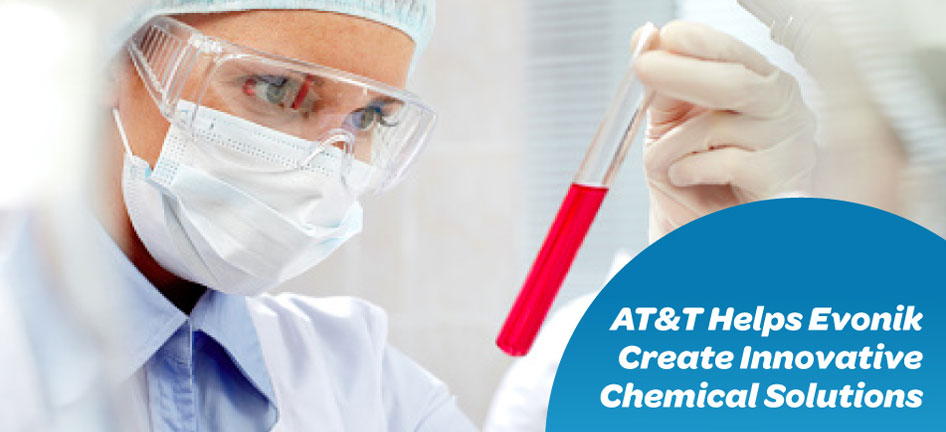 Evonik Researchers Worldwide Lead Scientific Innovation with Highly Secure AT&T Global Network
BARCELONA, Feb 22, 2016 – At AT&T*, we're helping scientists and researchers from Evonik Industries share their know-how and develop market leading chemical solutions. Evonik scientists and employees are working together worldwide, and we're protecting their communications environment. The German global chemicals company is using the AT&T highly secure global network to keep its intellectual assets connected safely.
"80% of our sales come from market leading positions, while we generate about 78% of our business outside Germany," said Evonik's Chief Information Officer, Bettina Uhlich. "That's why our engineers and scientists are always researching the global future needs of people and businesses –and why we need a robust, highly secure global corporate network."
We added 60 locations to Evonik's global private communications network, with this new 5-year agreement. In fact, for over 10 years Evonik's 33,000 employees have relied on our global network services to work flexibly at all times. Evonik's network now spans over 200 locations in Europe, the U.S., Asia Pacific and South America.
"We're helping Evonik innovate and solve the challenges of the connected world. The deal shows our commitment to Germany and our global recognition," said AT&T Regional Vice President for Europe, the Middle East and Africa, John Vladimir Slamecka.
*AT&T products and services are provided or offered by subsidiaries and affiliates of AT&T Inc. under the AT&T brand and not by AT&T Inc.