AT&T Leads the Industry in the Internet of Things
15 JUNE 2015
---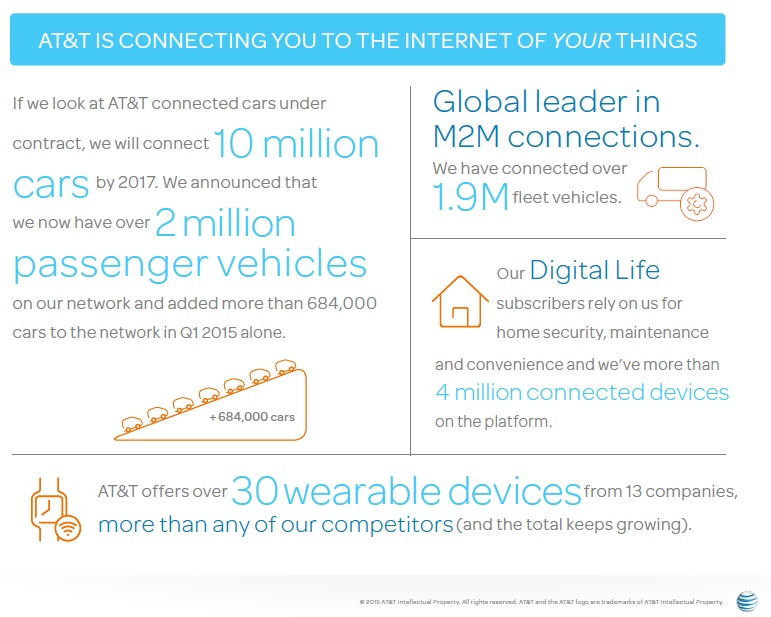 Connecting the Connected: More Than 136 New IoT Agreements Signed in 2015
DALLAS, June 15, 2015 – AT&T1 is connecting more people, processes and machines with the Internet of Things (IoT). Since January 2015, AT&T has struck IoT agreements with more than 136 companies across numerous industries. These include agriculture, automotive, aviation, energy, healthcare, transportation, security and supply chain logistics.
The AT&T network had nearly 22 million IoT connected devices worldwide. More than 945,000 smart devices connected during the first quarter of this year. That's 70 percent more than the same quarter a year ago. Of those devices, 684,000 were connected cars. AT&T is leading the industry, working with eight of the top automakers.
Companies and consumers are embracing the connected world. They want solutions from connected cars to wearable devices (like smartwatches), to tools that help cities (like energy grids, streetlights and irrigation pipes).
The market for Internet of Things are expected to nearly triple to $1.7 trillion by 2020, says global market intelligence firm International Data Corp. (IDC). Devices, connectivity, and IT services will make up the majority of the market, IDC reports.2
"We're seeing major interest from companies in almost every industry. They want to connect their machines, fleets, factories, shipping containers – even pallets – to our network," said Ralph de la Vega, CEO, AT&T Mobile and Business Solutions. "We're helping businesses solve real problems by building custom solutions that automate operations, reduce costs, and save time. With our highly secure and reliable network, there's no limit to what can be connected."
Connected Business
Businesses are increasingly turning to machine-to-machine (M2M) or Industrial IoT technology. It benefits them by cutting costs, boosting revenue, saving time, reducing energy use and increasing visibility. Some IoT solutions are :
AT&T Cargo View with FlightSafe® – A device that monitors assets worldwide, by air or land. It uses small, lightweight sensors that record and transmit location, temperature, pressure, light and shock.
AT&T Smart Grid – AT&T is modernizing utility systems with wireless connections to smart grid devices, such as smart meters to help make energy grids more efficient and reliable.
AT&T M2X – Allows customers to connect their devices to AT&T's cloud-based data storage service. It lets companies collect, analyze and share data – from trucks and turbines to vending machines and freight containers.
AT&T continues to work with the Industrial Internet Consortium®, as a founding member to speed the growth of the Industrial IoT.
Connected Living
AT&T is making connected living a reality by enabling connected experiences across devices – now or in the future. The things we interact with every day are transformed, made smarter by embedded wireless technology.
Connected Cars – Your car can alert you when repairs are needed, help you navigate busy streets or provide rear-seat entertainment.
Connected Cities – In the future, traffic lights will alert you to trouble spots, lampposts will detect flood zones and air quality, and city water pipes will detect and protect against wasteful leaks.
Connected Homes – A connected home is a safer and more efficient home. Adjust the thermostat and turn off excess lights to save energy and money. Monitor when family members come and go, open the medicine cabinet or open and close the garage door.
Connected Health & Fitness – Know and share vitals with the doctor from virtually anywhere. AT&T leads the industry in its selection of fitness, smart locator and smartwatch wearables with more than 30 wearables to choose from.
The Next Consumer Revolution
"There's no question that AT&T is leading this connected revolution. We were the first wireless carrier to recognize the IoT opportunity. We started investing early and put a dedicated team behind it more than seven years ago," said Glenn Lurie, president and CEO, AT&T Mobility. "That's why we're the farthest along in connecting cars and seeing real traction in other areas which are just starting."
"Think of how much has been accomplished in a short amount of time – yet we're still just scratching the surface of what's possible. You'll see us continue to push, to innovate and play where our competitors simply are not," Lurie said.
So What's Next for AT&T in IoT?
Check out Glenn Lurie's response here.
AT&T sees five key areas that must be addressed as connected device adoption increases:
Customer Experience – One of the most important pieces to the success of IoT is creating simple and easy interfaces.
Standards – Widespread technology needs standards. Open platforms and consistent set of standards that support multiple device types.
Security – Every connection/device is a potential point of attack. A layered approach to enterprise security is essential to deal with today's threats and business environments.
Battery Life – Evolving battery life in devices/sensors that support high bandwidth services without draining battery.
Cost – Lowering cost to bring connectivity everywhere.
Supporting Facts
First telecom company to establish a group to explore IoT (Nov. 2008).
First telecom company to open a Foundry (Innovation Center) in Plano, TX devoted to IoT (2014). AT&T has launched 10 M2M projects so far and more than 20 are in the works.
First telecom company to open a dedicated research facility for connected car, AT&T Drive Studio (2014).
AT&T expects to connect nearly 50 percent of all newly connected U.S. passenger vehicles by the end of 2015.
AT&T connects more than 40 percent of the connected farm machines in the U.S.
AT&T connects more than 1.9 million fleet vehicles and 283,500 refrigerated shipping containers.
AT&T has certified more than 2,200 types of connected devices and that number is growing.
AT&T offers a Global SIM platform that provides wireless connections virtually anywhere in the world (200+ countries and territories).
AT&T's provides innovative split billing solutions with both wholesale and retail options.
Digital Life is in 82 U.S. markets.
AT&T leads the industry in its selection of fitness, smart locator, and smartwatch wearables.
Resources
For more information about AT&T IoT visit: www.att.com/IoT.
View the IoT Solutions video here.
Follow the IoT conversation on Twitter: @ATT, #ConnectedLife.
1AT&T products and services are provided or offered by subsidiaries and affiliates of AT&T Inc. under the AT&T brand and not by AT&T Inc.

2IDC Press Release, Explosive Internet of Things Spending to Reach $1.7 Trillion in 2020, June 2015.