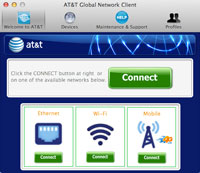 Description
The AT&T Global Network Client allows Mac OS devices to easily access the Internet and your company's private network from all over the world. It provides a simple, powerful interface that automatically detects and connects over cellular, Wi-Fi, and broadband networks.
In addition, AT&T now offers more than 1M* Wi-Fi hotspots in more than 100 countries that are available to Remote Access Users who utilize the AT&T Global Network Client. The total AT&T Wi-Fi footprint is comprised of both AT&T Wi-Fi branded locations and AT&T partner Wi-Fi locations across the world.
System Requirements
The AT&T Global Network Client for Mac and its components are supported on the following operating systems and hardware:
Operating System
Mac OS 12.2 (Monterey)
Mac OS 11.4 (Big Sur)
Mac OS 10.15 (Catalina)
Latest Download
AT&T Global Network Client for Mac 2.2.3 (Download)
Apple, the Apple logo, iPhone, iPad, iPod touch, and iTunes are trademarks of Apple Inc., registered in the U.S. and other countries.