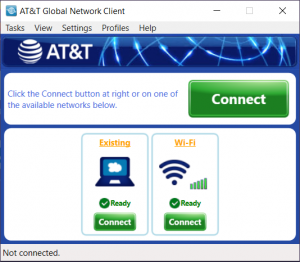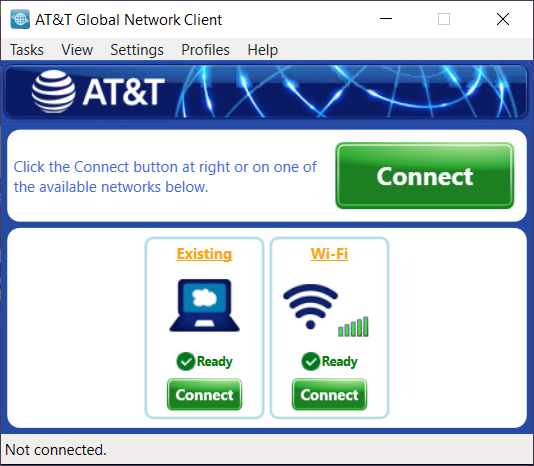 Version 9.9.1 Available
Version 9.9.1 of the AT&T Global Network Client for Remote Access is available.
Enhancements included in Version 9.9.1 include:
Updated Lightweight Policy Enforcement
Updated WISPr probe URL (changed to eaccess-cdn.att.com) used for hotspot authentication
Bug Fix to prevent crash when changing password
Bug fix for "do not allow save password" which allows Administrators to prevent users from saving passwords
In addition, AT&T now offers more than 1M* Wi-Fi hotspots in more than 100 countries that are available to Remote Access Users who utilize the AT&T Global Network Client. The total AT&T Wi-Fi footprint is comprised of both AT&T Wi-Fi branded locations and AT&T partner Wi-Fi locations across the world.
* All hot spots available in version 9.2 and later. Earlier versions support no more than approximately 700K hotspots.
Latest Downloads
Limited Availability release now available.  Please see below for details.
Name
Version
Date
Download
AT&T Global Network Client

 

This version contains the VPN software required to use AT&T's managed VPN services.  The majority of customers use this version.

If you were previously using the Managed VPN Edition or the LaptopConnect Edition, you will want to upgrade using this installation package.

9.9.1
January 23, 2019
Download
All installation packages install on all supported operating systems: Microsoft Windows 7 (32-bit), Microsoft Windows 7 (64-bit), Microsoft Windows 10 (32-bit) and Microsoft Windows 10 (64-bit).
Alternate (MSI) Versions
Software Export
| | | | |
| --- | --- | --- | --- |
| Product Name | ECCN | Restricted/Unrestricted | CCATS |
| AT&T Global Network Client (56 bit) | 5D002 | Unrestricted | G014990 |
| AT&T Global Network Client (3DES/AES) | 5D002 | Unrestricted | G032606 |
10.3.0 Client – Limited Availability

For customers interesting in trying the latest beta version of the AGN Client, which is not yet generally available, please reach out to g18787@att.com for instructions. Specify your company name, account id from your AGN Client or invoice, and number of users that will be using the beta version. We would love to get your feedback on the latest beta version. Some of the updates since version 9.9.1 include:
Added SHA2 support and Diffie-Hellman groups 14 and 15 support to provide better security options, including AES 256 VPN encryption
Updated OPSWAT to support most current list anti-malware and firewall products
Updated AT&T logos to current brand identity
Improved display of certificates related to smart card authentication. Certificates are now sorted in order of time remaining before expiration
Improved security
Fixed inconsistent display of login window and update window graphics
Enhanced logging to assist AT&T support team with troubleshooting
Removed support for Windows 7 (no longer supported by Microsoft)