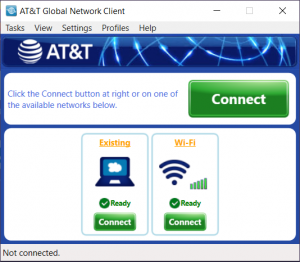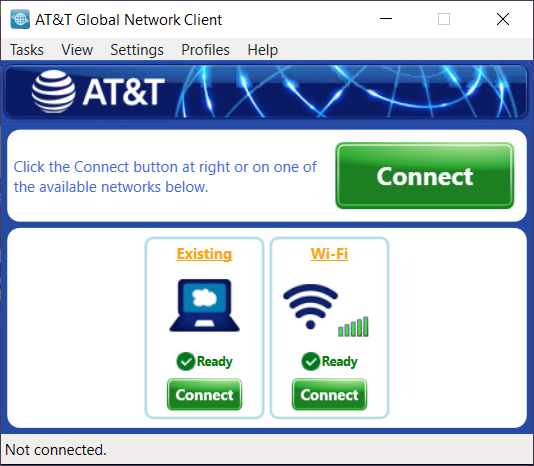 Version 10.8.0 Available
Version 10.8.0 of the AT&T Global Network Client for Remote Access is available.
Enhancements in recent releases include:
Add DH14 for Cisco Firepower ASA IPSec proposal
Add the ability to run LPE elevated
Add the ability to verify the product and the products version for Is Running rule
Address Veracode Issues
Prevent the client from installing on Windows 10 1703 and older.
Replace RSA BSAFE library with Windows Crypto Next Generation API
Replace the Entrust certificates with OpenSSL certificates
Update OPSWAT OESIS to version 4.3.3314 – 2023.1.3.29
Update SQLite to 3.40.1
Bug fix: Client crashes while trying to create a support package
Bug fix: Getting an Error using fenced firewall rules
Bug fix: Select the last used certificate by the user
Bug fix: Various minor bugs addressed
In addition, AT&T now offers more than 1M Wi-Fi hotspots in more than 100 countries that are available to Remote Access Users who utilize the AT&T Global Network Client. The total AT&T Wi-Fi footprint is comprised of both AT&T Wi-Fi branded locations and AT&T partner Wi-Fi locations across the world.
Latest Downloads
AT&T Global Network Client – Version 10.8.0.1862
Released February 28, 2023
All installation packages install on all supported operating systems: Microsoft Windows 10 1709 and newer and Microsoft Windows 11 (32-bit/64-bit).
Software Export
| Product Name | ECCN | Restricted/Unrestricted | CCATS |
| --- | --- | --- | --- |
| AT&T Global Network Client (56 bit) | 5D002 | Unrestricted | G014990 |
| AT&T Global Network Client (3DES/AES) | 5D002 | Unrestricted | G032606 |