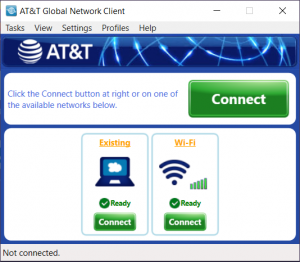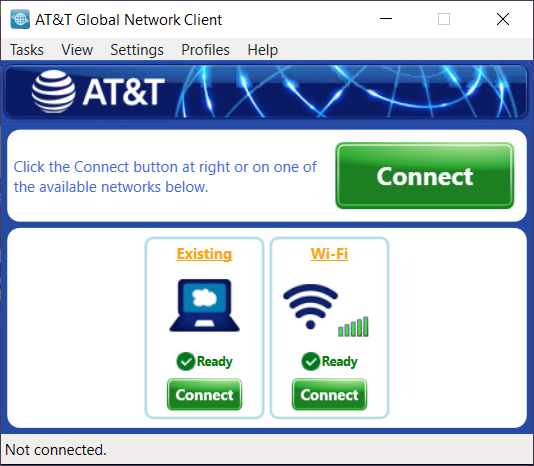 Version 10.4.0 Available
Version 10.4.0 of the AT&T Global Network Client for Remote Access is available.
Enhancements included in recent releases include:
Improved Lightweight Policy Enforcement capability by adding support for Drive Encryption, Data Loss
Implemented a new, more reliable database using SQLite for LPE Rules, Profiles, Preferences, Auto
Start, and Config Settings
Address security and vulnerability concerns found by Veracode scan
Remove support for deprecated functions, including Gopher and Socks proxy
Bug Fix – database error experienced when upgrading from versions prior to 9.9.0
Implemented a new, more reliable database using SQLite for Bookmarks, Focus connect/disconnect
records, Service Manager Reporting System, and event logging
Updated OPSWAT Lightweight Policy Enforcement to provide support for new applications and new
versions of existing applications
Add the ability to set the multi factor authentication timeout to allow for unique situations (i.e. a user
takes a while to respond)
Added a customization option to select the machine and user certificate to use by defining a partial
certificate name
Improve logging messages for asset validation
Update SQLite to version 3.32.3
Hide service selection panel to simplify the configuration options
Activity threshold timeout has been disabled by default to avoid unexpected disconnection from VPN
during periods of minimal network traffic
Added capability to automatically process the customization file config.xml at startup if a new version is
found
In addition, AT&T now offers more than 1M* Wi-Fi hotspots in more than 100 countries that are available to Remote Access Users who utilize the AT&T Global Network Client. The total AT&T Wi-Fi footprint is comprised of both AT&T Wi-Fi branded locations and AT&T partner Wi-Fi locations across the world.
* All hot spots available in version 9.2 and later. Earlier versions support no more than approximately 700K hotspots.
Latest Downloads
Name
Version
Date
Download
AT&T Global Network Client

 

This version contains the VPN software required to use AT&T's managed VPN services.  The majority of customers use this version.

If you were previously using the Managed VPN Edition or the LaptopConnect Edition, you will want to upgrade using this installation package.

10.4.0
March 31, 2021
Download
All installation packages install on all supported operating systems: Microsoft Windows 7 (32-bit), Microsoft Windows 7 (64-bit), Microsoft Windows 10 (32-bit) and Microsoft Windows 10 (64-bit).
Alternate (MSI) Versions
Software Export
| | | | |
| --- | --- | --- | --- |
| Product Name | ECCN | Restricted/Unrestricted | CCATS |
| AT&T Global Network Client (56 bit) | 5D002 | Unrestricted | G014990 |
| AT&T Global Network Client (3DES/AES) | 5D002 | Unrestricted | G032606 |