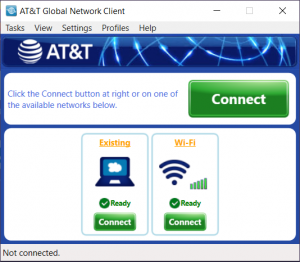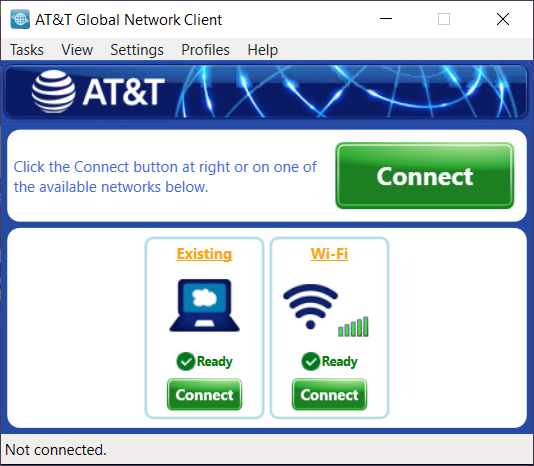 Version 10.5.1 Available
Version 10.5.1 of the AT&T Global Network Client for Remote Access is available.
Enhancements in recent releases include:
Completed moving all remaining databases to SQLite

Address security and vulnerability concerns, including all discovered by Veracode scan

Updated OPSWAT Lightweight Policy Enforcement to provide support for new applications and new versions of existing applications

Update SQLite to version 3.35.5

Bug fix: Deleting of saved certificate was not working correctly

Bug fix: Translation to non English languages was not always accurate

Bug fix: VIG/SIG VPN endpoint selection algorithm logic

Bug fix: Client was incorrectly creating multiple profiles when using certificates as primary authentication

Bug fix: Crash occurred with specific LPE rules
In addition, AT&T now offers more than 1M Wi-Fi hotspots in more than 100 countries that are available to Remote Access Users who utilize the AT&T Global Network Client. The total AT&T Wi-Fi footprint is comprised of both AT&T Wi-Fi branded locations and AT&T partner Wi-Fi locations across the world.
Latest Downloads
All installation packages install on all supported operating systems: Microsoft Windows 10 (32-bit) and Microsoft Windows 10 (64-bit).
Software Export
| Product Name | ECCN | Restricted/Unrestricted | CCATS |
| --- | --- | --- | --- |
| AT&T Global Network Client (56 bit) | 5D002 | Unrestricted | G014990 |
| AT&T Global Network Client (3DES/AES) | 5D002 | Unrestricted | G032606 |