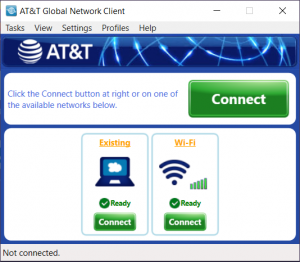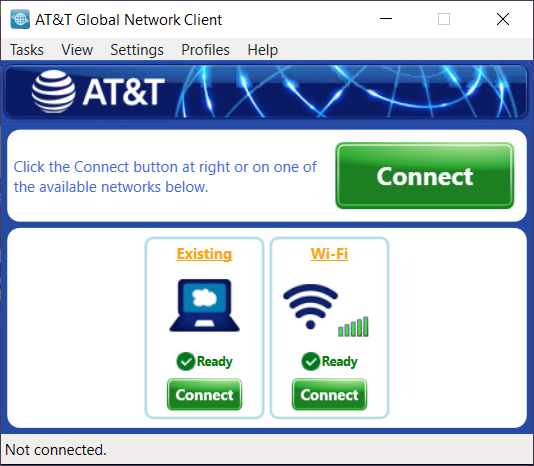 Version 10.7.2 Available
Version 10.7.2 of the AT&T Global Network Client for Remote Access is available.
Enhancements in recent releases include:
Improved certificate handling when multiple certificates shared the same expiration date
Added the ability for customer to modify setting for all customization profiles (root profile) instead of individually
Update .NET Framework to 4.8
Update .NET SQLite to 1.0.116
Bug fix: Add a new user without copying sometimes would copy existing profile data anyhow
Bug fix: Lightweight Policy Enforcement would not complete the validation steps in certain cases
Bug fix: Crash occurred when closing and then restarting the application within 5 seconds
Bug fix: Clean up reporting by removing unnecessary data in the version number field
Bug fix: Lightweight Policy Enforcement validation was not working correctly in some cases, requiring a change in the logic
In addition, AT&T now offers more than 1M Wi-Fi hotspots in more than 100 countries that are available to Remote Access Users who utilize the AT&T Global Network Client. The total AT&T Wi-Fi footprint is comprised of both AT&T Wi-Fi branded locations and AT&T partner Wi-Fi locations across the world.
Latest Downloads
AT&T Global Network Client – Version 10.7.2.1777
Released August 8, 2022
All installation packages install on all supported operating systems: Microsoft Windows 10 and Microsoft Windows 11 (32-bit/64-bit).
Software Export
| Product Name | ECCN | Restricted/Unrestricted | CCATS |
| --- | --- | --- | --- |
| AT&T Global Network Client (56 bit) | 5D002 | Unrestricted | G014990 |
| AT&T Global Network Client (3DES/AES) | 5D002 | Unrestricted | G032606 |