Latin America & Caribbean Leadership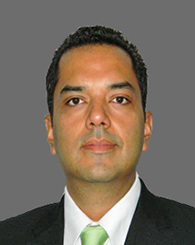 Rodrigo is the Area Vice President for AT&T's Latin America North Region which includes Mexico, Caribbean and Central America. He leads the professional sales team that provide industry leading communications and networking solutions to multinational corporations in Latin America.
Rodrigo joined AT&T in 2006 and rapidly progressed within the company from his original position as Regional Account Manager to Global Account Director and most recently as Director Of Sales for Latin American region. He is a graduate of the 2010 AT&T Leaders Program which was developed to help create the next generations of leaders within AT&T.
Prior to join AT&T, Rodrigo collaborated as Regional Sales Manager in Centergistic Solutions a specialty software firm. Before that experience he participated as Sales Manager at NextiraOne Mexico, a leading Mexican systems integrator and technology services provider. His vast experience also includes Commercial and Strategy Manager at Teleglobe (Bell Canada Enterprises) and Alestra, a well-known local exchange carrier in Mexico.
Rodrigo has over 25 years of experience in sales and management of IT and mobile related services & solutions for global Fortune 500 accounts. Highly skilled in team building with people-oriented management style has been continuously recognized for with unceasing overachieving awards, leadership, coaching and new business development.
Rodrigo has a Bachelor's degree in Business Administration from National University Autonomus of Mexico (UNAM) and graduated MBA degree majored in Marketing. from Instituto Tecnológico Autonomo de México (ITAM). Rodrigo has been professor of International Marketing at Las Americas University. He lives in Mexico City with his wife, Marcela and his two children.