AT&T Fiber benefits
You probably already know fiber's fast. But did you know that all business fiber is not created equal. AT&T Business Fiber is the better choice because you get more than just ultrafast speeds up to 1Gbps and a connection that's over 99% reliable.
You get a secure, customizable, solution that gives you the power to easily access your customers, expand your website for a better user experience, video conference and more.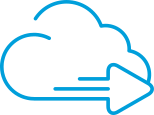 Ultrafast
Superfast speeds so you can video conference and more with less waiting or buffering.

Ultrareliable
Enjoy peace of mind knowing customers can reach you with reliable internet.

Ultrasecure
Protect your business with powerful antispyware, antivirus, and antispam services.