AT&T Audio Reservationless and AT&T Connect web conferencing support turning on/off various event and host-level controls during a conference.
Note:
Some of the options listed below may be disabled at the system account level by your Teleconferencing Manager:
ENTRY AND EXIT ANNOUNCEMENT OPTIONS
SILENCE
TONES
NAME ANNOUNCE * Requires Name Record enabled.
NAME RECORD
CONFERENCE RECORD
HOST DIAL OUT
OPERATOR DIAL OUT
CHANGE HOST PASSWORD
ALLOW SINGLE PARTICIPANT IN EVENT
CONFERENCE CONTINUATION
PARTICIPANT SECURITY CODE
CHANGE USERNAME AND/OR PASSWORD
REQUEST WALLET CARD
At any time, you may access your account information, add or change features. This page will guide you through this process.
Option A – Online, via the Internet Reservations System (IRES) Portal
1. If you have an Internet Reservations (IRES) account, access the login page by clicking here
If you do not have an IRES account, you can enroll by clicking here. You will need to enter your corporate email address. Note: Some companies did not turn on the option to allow IRES access and you may not be able to enroll
via the web. In this case, scroll down this page for Option B (Calling an AT&T Teleconferencing Care specialist). Contact your Teleconferencing Manager for more details on the online option.
2. Enter your IRES User ID and Password. If you forgot them, you may click on the Forgot Password link.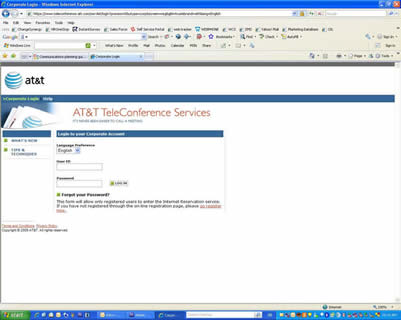 3. After logging in, click on the CHANGE button at the bottom of the form.
4. You may now change controls or your AT&T Connect host username and password (under the : "Reservationless AT&T Connect Service" section) and/or your audio reservationless credentials. It is recommended to have the
audio & Connect services contain the same username and password for easy reference.
5. Click Submit. A confirmation email will be sent automatically to you.
Option B – By calling an AT&T Teleconferencing Care specialist
1. Call AT&T Teleconferencing Customer Care at: +1 866 440 0821
2. Request a change to your Audio Reservationless and/or Connect Meeting (RCM) credentials or features. You will need your Folder (host) ID from your current Registration Confirmation email so the specialist can access your
account. If you are unable to find your Folder ID, the specialist can search for it after providing your name, company and email. You may be required to answer a security question for authentication.
---